Memory Foam Mattresses To Keep You Cool
Our popular memory foam mattresses category has recently received a substantial update, with the addition of a number of new and innovative offerings designed to keep you cool whilst you sleep.
Introducing COOLBLUE
Whilst traditional memory foam (visco elastic foam) has a reputation for trapping body heat, our new collection of mattresses offers an alternative solution. Both the new COOLBLUE COOLVisco memory mattresses and PocketFLEX range have been designed to enable air ventilation and 'breathability', whilst offering premium comfort.
Our COOLBLUE COOLVisco mattresses are manufactured to offer the same benefits of 'traditional' visco-elastic mattress – that is to say, full independent support, relief on pressure points, relief from muscle tension and improvements to circulation. However, as the name suggests, the COOLVisco is manufactured to promote air circulation throughout the mattress, thanks to the comfortable cone construction.
We can supply standard sizes of mattress comprising of a 7cm depth of COOLVisco foam that sits upon either 13cm or 18cm depths of a sturdy reflex foam base, giving you support, supple comfort and 'breathability'.
The great news is that the COOLBLUE range of mattresses come with a 10 year guarantee, and adhere to stringent UK flammability regulations. Find out more about our new COOLBLUE memory foam mattress by calling our sales line on 01234 834693.
New GelFLEX™ Range
GelFLEX™ mattresses are another innovation that has recently been selected for our product catalogue, as an alternative to our traditional memory foam mattress and natural latex mattress range. The latex-gel 'LayGel' material used in the GelFLEX™ mattresses are designed to not only provide a sensationally comfortable sleep surface, but the added 'breathability' of this alternative to pure visco-elastic foam means that the user is able to stay cool and comfortable all night long.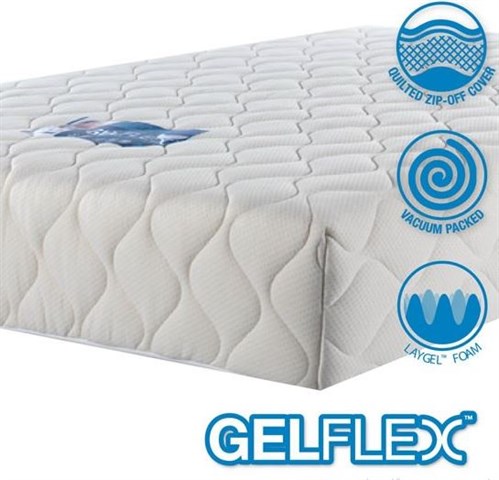 Our GelFLEX™ mattresses come in 2 depths:
20cm: 7cm LayGel top with 13cm reflex foam base
25cm: 7cm LayGel top with 18cm reflex foam base
The GelFLEX™ mattresses come with a 10 year guarantee, and also comply with UK flammability regulations.
For large volume orders, information about COOLBLUE and GleFLEX™ mattress dimensions or mattress dimension customisation, please call the MyBedFrames sales lane on 01234 834693 today.
Related Posts:
UK Bed Sizes: The Bed & Mattress Size Guide