Frequently Asked Questions
Is delivery free?
Yes, delivery is free to all mainland UK addresses - with the exception of the highlands of Scotland, where there is a surcharge dependent on the postal address. We can deliver to non-UK addresses but you will have to call us for a quote on the carriage.
How quick is delivery?
All products have the delivery timescales shown on the product page for that specific item.
Bed Frames: However delivery is 'usually' 3-10 working days. If you order multiple items (i.e. Bed frame & Mattress), then there is a possibility that these will be delivered at different times or possibly days (You will be contacted in advance to arrange the delivery).
Furniture: Delivery on furniture is 7-10 working days and you will be contacted beforehand to arrange the delivery.
Divan Beds & Mattresses: Delivery is 3-5 working days with certain area's covered on certain days (as indicated on the map below). Please note if ordering a bed frame this will be delivered separately from the mattress and you will be contacted regarding the bed frame via external couriers.
Please note, this map shows the delivery days for divan beds and mattresses only.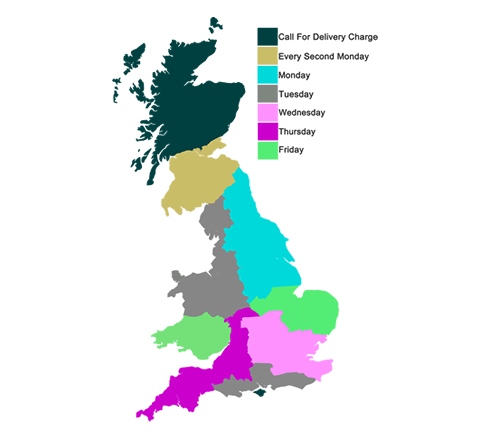 Where do you deliver?
All of our bed frames and mattresses can be delivered to mainland UK addresses. Delivery charges are free for England, Wales and Scottish lowlands. There is a surcharge for delivery to addresses outside these areas, and our sales office will be happy to quote for this depending on the postal address.
Please note deliveries to Scotland may take longer depending on the address and the product in question. Please do not hesitate to contact us for further information.
How are the products delivered?
Products are delivered by a third party carrier and delivery times are between 8am and 6pm on the specified day (you will be notified of a delivery date and where possible a time window for delivery or tracking details).
Please ensure someone is available to accept delivery of your products on the arranged day as failure to do this or the re-delivery may be chargeable depending on the item. Unfortunately we are unable to give an exact time for delivery but can supply a tracking reference for most orders.
All bed frames are delivered boxed and require self assembly. Mattresses are delivered in plastic wrapping. Deliveries are to front door threshold or kerbside, depeding on delivery access.
Do you use voucher codes?
Due to our products already being heavily discounted we do not offer any voucher codes. However, should you see a genuine like for like product offered at a cheaper price we will always look to price match.
What if something arrives damaged?
We live in the real world and understand that sometimes things may arrive damaged. If this is the case we would ask if the box is damaged on arrival or marked in any way then please sign for as damaged. We will then ask for an image to be sent showing the damage and where it is to the box and also the product when un packaged.
We will then process this and aim to get a replacement part out to solve the problem for next day delivery (When possible), or if the damage is beyond a repairable part/component we will either refund or replace your order.
Can I return products?
Of course. In the unlikely event you are unhappy with a product, then you have 14 days to return it to us. The product must be re-boxed in the original packaging and get back to us in a re-saleable condition. All returned goods will be inspected and we reserve the right to charge for incomplete and/or damaged items.
We can arrange a collection for you via our Furniture delivery team at a cost from £49 which will be deducted from your refund, alternatively you may organise to return the item yourself.
Mattresses: Please be aware due to hygiene reasons, if you have opened the mattress we are unable to accept it for returns unless deemed faulty.
How are mattresses delivered?
Most of our mattresses are supplied full sized ready to use although the memory foam mattresses arrive vacuum packed and they can take up to 8 hours to inflate to their full depth. Please note that new mattresses can take a few weeks to 'bed in' and settle as the fillings need to be laid on.