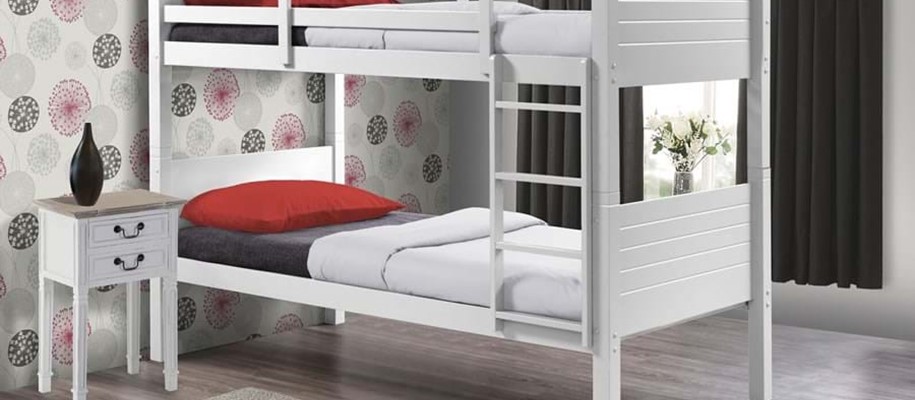 Different Types of Bunk Beds
For decades, bunk beds have been an extremely popular children's bed option, largely thanks to their practical, space-saving design.
But in recent years, bunk beds have evolved, offering more than just the benefit of two beds in one bed space. Although we do supply a wide range of traditionally styled wooden frame bunk beds in a variety of high quality wood finishes, we have also sought to include a large collection of innovative, contemporary designed bunk beds, cabin beds and loft beds.
The designs have adapted into an 'all-in-one bedroom furniture' solution to suit the modern child and teenager, whether they're studying, gaming, using any one of a plethora of electronic devices, or just hanging out with friends. If you're not familiar with the difference between bunk beds, cabin beds and loft beds, here's a quick reference guide to help you out:
Bunk Beds
Frame where two or more beds are stacked and fixed on top of one another, maximising floor space. Traditionally, bunk beds are constructed with solid wood (commonly pine) or metal, and are popular in children's bedrooms, dorms and other communal establishments. Many of our bunk beds can be split into two separate beds, making them an even more versatile option.
Cabin Bed
Cabin beds also go by the name of captain's bed or chest bed, and are designed to include extra storage space beneath the bed. Typically, modern cabin beds have a mid-height bunk underneath which storage drawers, shelving or roll-out furniture can be kept.
Futon Bunk
Futon bunks are a great way to incorporate a study space, as well as a guest bed for occasional use. As with the cabin bed, the upper bunk is accessed via a ladder and serves as the sleeping area, with the space underneath fitted with (optionally) a futon sofa which can then be unfolded into a guest bed. Other options also incorporate a study desk, shelving, and single futon chair that can convert into a futon guest bed.
3 Sleeper Bunk
As the name suggests, a 3 Sleeper Bunk provides sleeping space for 3 people, with a single bed space on the upper bunk and small double or double on the lower bunk.
For more advice about any of our bunk beds, feel free to call our friendly sales team on 01234 834693 and we'll be happy to assist.