Control Your Dreams Like Never Before
Lucid dreaming is essentially possessing the ability to know you're dreaming while you're dreaming and is a very sought after skill that can takes years of practice to master. With this ability, the possibilities within your dreams are endless, and you will be able to control them.
For many of us the desire to lucid dream is a mere fantasy, one that was highlighted by the release of Inception (2010) starring Leonardo DiCaprio. Watching Ellen Page fold a city in on itself was mindboggling to say the least and audiences were instantly captured by the idea of lucid dreaming.
In 2012 Steve Mcguigan co-founder of BitBanger Labs started a Kickstarter project called Remee – The REM Enhancing Lucid Dreaming Mask.
To the untrained eye, this lucid dreaming mask looks like an ordinary sleeping mask. But with closer inspection you'll notice this sleep mask is slightly more rigid than expected and this is due to the flexible circuit board within. This is Remee's brain, control centre, hub or whatever you'd like to call it.
Its settings are controlled by six red lights which can be set to suit the individual. Ideally, these lights will need to turn on when you are experiencing REM sleep. Many other lucid dream devices can feel and look bulky, but with Remee you can programme your sleep mask by simply holding it up to your computer while on BitBanger's website. The website will blink a stream of binary codes into your device and hey presto you're ready.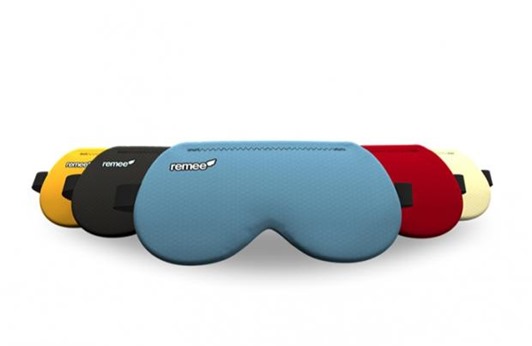 Lucid Dreaming
Although you may have the Remee sleep mask, it's not as simple as just going to sleep and you'll start to lucid dream. The mask will just encourage lucid dreaming. There are no expensive sensors which detect that you are in REM sleep. Unfortunately there will be a lot of trial and error until you find the right settings. Knowing your sleeping pattern will go a long way to properly tweaking your Remee settings.
To help with understanding your sleeping patterns, you can use an app called Sleep Cycle Alarm Clock. This app monitors your movement during sleep and gathers the data to determine when you are hitting REM sleep.
Remember, Remee is a tool, not a quick fix solution. As with any tool it must be used with the proper techniques to get the best use out of it.
Upon possessing the ability to lucid dream, what would be the first thing you would want to do?