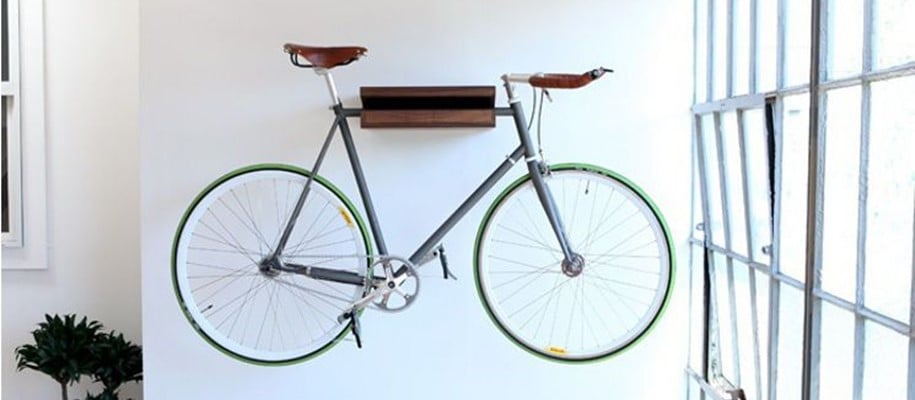 14 Alternative Ways to Decorate Walls Without Paint
So does your landlord says you can't paint the walls? Or is the idea of re-painting just too messy and time-consuming?
Whatever your reason for not wanting to paint, here are 14 alternatives to decorating empty walls. 
1. Temporary Wallpaper 
Temporary wallpaper is a thing and is especially becoming a popular design trend in the USA. It is now becoming popular in the UK too, and you can easily buy it online from many companies. Although a quick internet search found Ever Wallpaper – who not only provide peelable wallpaper to the UK but who also allows you to design custom wallpaper, using your own photograph!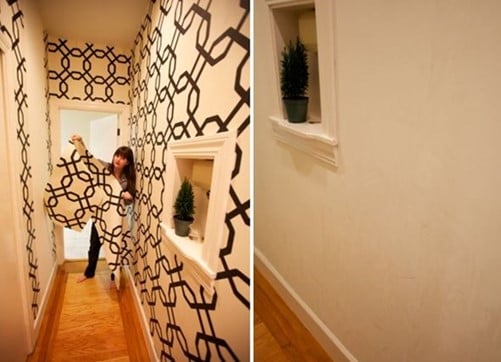 The theory behind temporary wallpaper is pretty simple, but does it actually work? Most reviews claim that temporary wallpaper does come off relatively easily, although as mentioned here, some brands can leave behind marks.
I would advise asking for a sample and testing it out on a small area of the wall if you're renting and are worried about marks being left.
2. DIY wall design using Masking Tape
A little more difficult, this method requires using coloured and decorative easy-peel tape to create custom designs on your wall. One of my personal favourites, you can create some really cute designs at the price of a few rolls of masking tape (not very expensive), and the possibilities are endless!
The great thing about this is that the masking tape will come off cleanly and easily, so you won't have to worry about leaving behind any marks!
3. Hanging Art/Photos
The trick with using hanging wall art is to use removable wall hooks. These require no nails or glue and can be easily removed leaving no trace behind them. One drawback however is strength; they won't be able to stand really heavy frames, so keep that in mind to avoid waking up in the middle of the night to a huge SMASHing noise!
With large, bare walls, you'll want to hang your art/photos in a way that makes the empty space look a lot more interesting.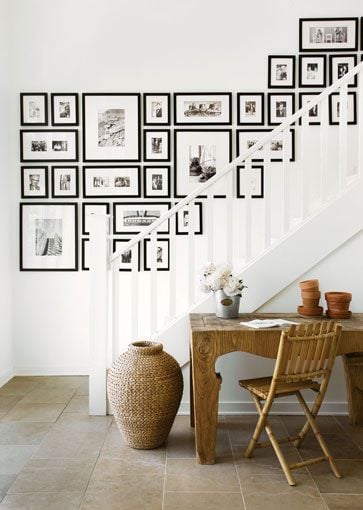 4. Wall Decals
Wall decals have become increasingly popular, and it's not hard to see why. Not only are they relatively inexpensive, but they are also dead easy to put up and can completely transform a boring wall.
Wall decals are essentially giant stickers, but instead of traditional stickers, they are super-easy to remove from walls, so again, they are a good option for renters.
5. Tile Transfers
Have a boring tiled kitchen or bathroom? Don't worry, you can decorate them too! Tile transfers (or tile stickers) are an easy way to add character to a tiled room without the major hassle (and cost!) of having to re-tile the whole room.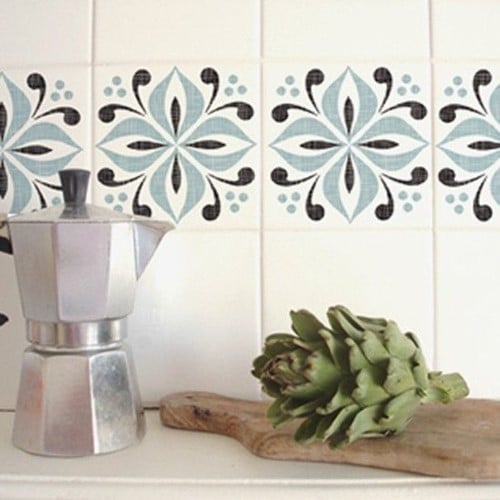 Available from most home stores in the UK including Amazon, tile transfers are similar to wall decals, although not always as easy to remove. The longer you leave them, the harder it is to remove them easily, although with elbow grease and water not impossible. Although it is something to bear in mind.
6. Stretched Fabric & Tapestries
Now I LOVE the idea of using fabric to decorate walls. But is it really feasible? There is a range of different methods, this one points out that although attaching fabric is easier than painting, it is also more expensive. This method also uses screws, which is often a no-no when it comes to renting.
Other methods include using starch, which works effectively but can be quite messy; see Apartment Therapy's guide to making removable fabric wallpaper.
But you don't have to go for a full-on fabric wall. Opt for a tapestry, like this world map from Urban Outfitters. You can use a variety of different methods to attach it, including drapery rods, Velcro strips,  coat hangers and curtain poles.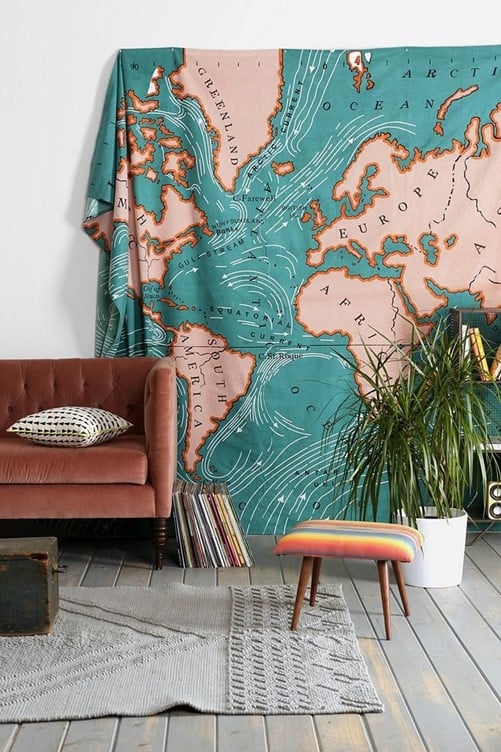 7. Shelves
Shelving is great in this example because it has a dual purpose; storage and decoration. A more permanent feature, wall shelves will be difficult to remove without having to refill/repaint the wall.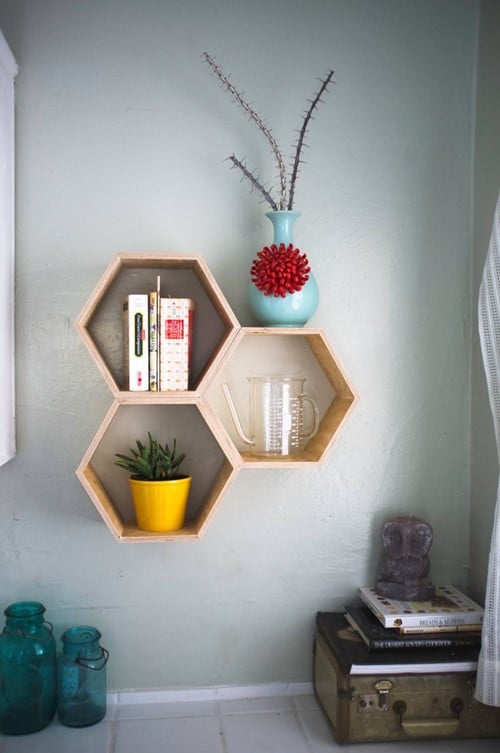 But large shelving units can also be used to break up a boring wall if you have the space. Another reason why shelves are a good option is that you can change what they display, meaning you can quickly transform the room again if you get bored or want to create a new theme.
8. Bamboo blinds
Yes, I know that blinds are for windows, but bamboo roller blinds in particular look fabulous as wall panels as well. This technique also works with straw beach mats – believe me!
In this tutorial, see how you can whitewash your bamboo blinds to create an even more subtle feel, adding texture and depth to your minimalist bedroom.
9. Wall-Length Curtains
Curtains do not have to be limited to just covering windows. They can be used in many rooms to add design features; in bedrooms as headboards, as room dividers and even as decor.
Use a curtain to create a feature wall, or to create a focal point in the centre of the room.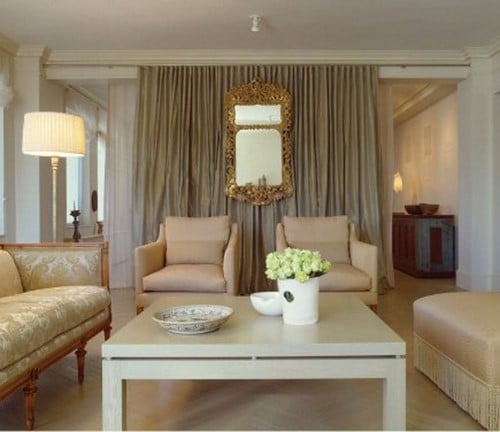 This technique also makes your windows look bigger.
10. Showcase your Collection
Do you have a collection? Use your wall as a gallery to showcase this collection. Not only is it unique, but it adds personality to your home. Display your plates or even your keyring's to create an eye-catching feature.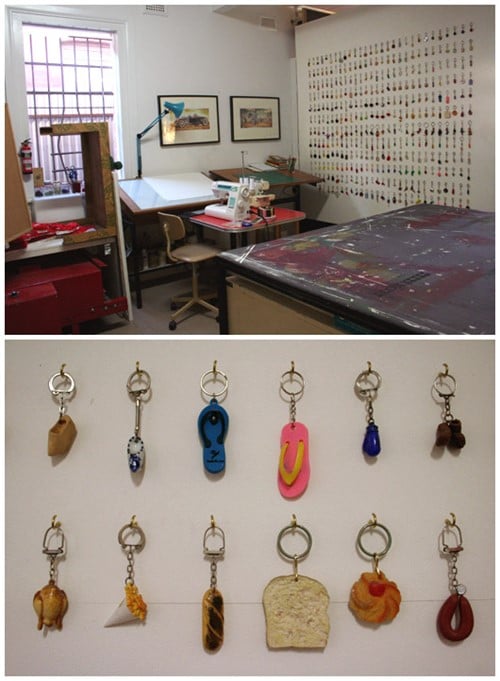 11. Fake Flowers
This one gets an A+ for creativity – and it's so simple! Attach artificial flowers to the wall with masking tape to create a '3D Wallpaper' effect.
But you don't have to stop at fake flowers, get creative and use something else equally impressive.
12. Folding Screens
Folding screens are portable and versatile pieces of furniture that can be used as temporary petitions, headboards and even against a wall as decor.
Use a transparent design with a lamp behind to create an illuminating romantic feel or a bold striking screen against a neutral wall to add striking accent colours.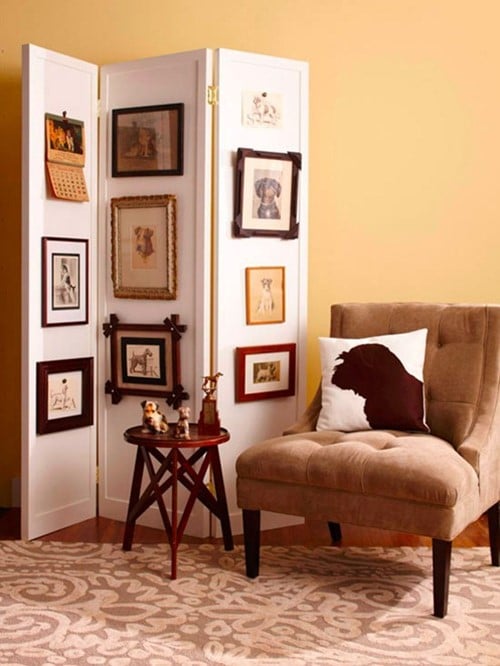 To make more of your screen, you can attach photos, or pictures to create a gallery effect. This avoids having to attach pictures to the wall, which can be a problem for renters.
Folding screens can be bought new, but I like to scour vintage shops and Etsy to find more original and quirky designs.
13. Bunting/garlands
Bunting and garlands are other popular trends which were revived by the Queen's 2012 diamond jubilee. A simple way of bringing colour to a blank wall, making your own garland is a fun weekend DIY project, especially if you have kids.
14. Hang guitars/bikes on walls
Again, this technique also doubles up as a great space saver, which is ideal if you live in a small space. You can pick up guitars and bikes relatively cheap these days.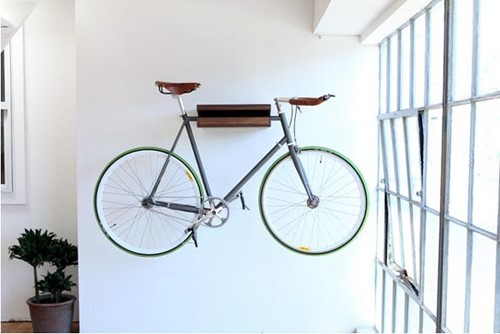 A simple and effective way to fill empty wall space, hanging your possessions on the wall also brings a sense of identity and personality into your interior design.
Like this post? Share it with your friends, and comment below if you have any other alternative decoration ideas that don't involve paint.