Must Have Bedside For All Spider-Man Fans. Covered In Colourful Spider-Man Graphics. Constructed With Smooth Rounded Edges. Matching Furniture Available. Free Delivery
Marvel Spider-Man Bedside Table Must Have For All Spider-Man Fans
Are you ready to swing into action with your friendly neighbourhood hero? If you love Marvel Spider-Man, you won't want to miss this amazing bedside unit that will make your room look awesome. The Spider-Man bedside unit is not only stylish, but also practical. It has plenty of space for storing your toys, books, night lights and anything else you need. Plus, it has a cool handle with a Spider-Man head that you can grab and go.
The Spider-Man bedside unit is designed with your safety and comfort in mind. It has smooth rounded edges that won't hurt you or your furniture. It's also easy to assemble at home, so you can enjoy it right away.
Don't miss this chance to bring home the ultimate Spider-Man accessory. Order your Spider-Man bedside unit today and make your room the envy of all your friends.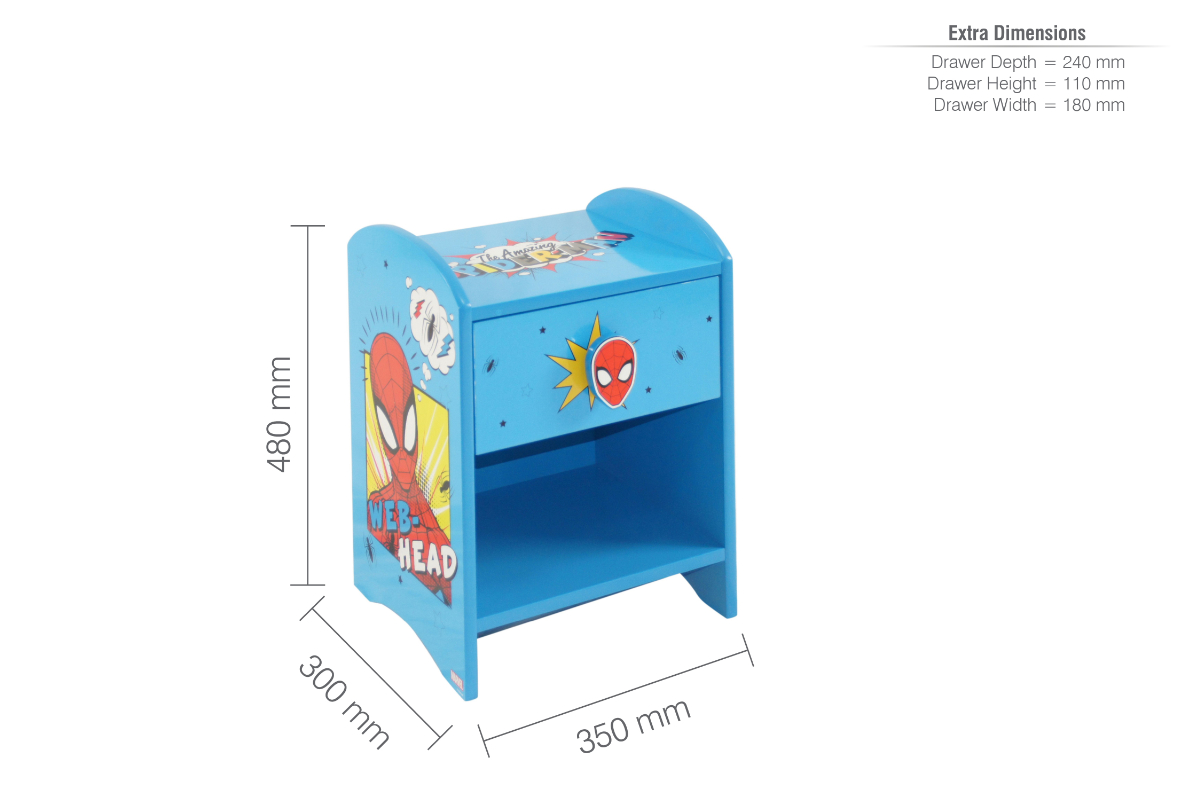 Delivery Information
This product is delivered flat-packed in 7-10 working days and the courier will contact you directly to arrange delivery.
Looking for suggested products
Customer Reviews
Verified Purchase
Reviewed Friday, November 3, 2023
Service rating : Bought these items for my Grandson in June but waiting for his bedroom to be finished, I only put the together today. Bedside table was simple following the instructions took 20 mins Bed was a little more difficult but once the first four screws were located it was fairly easy after...
Looking for recently viewed